The Acolyte Ultra 12ft Feeder rod is a super slim, lightweight rod with an exquisite casting and playing action.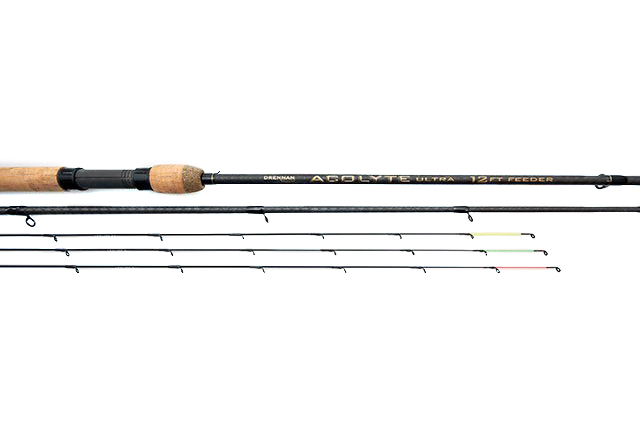 Acolyte Ultra Feeder rods have all the hallmarks of quality as our award-winning Acolyte Float models. It has taken a considerable amount of time and effort to field-test prototypes and then fine-tune every element in our design rooms – but we are sure you will be impressed with the finished product!
The blank of the Ultra 12ft Feeder is super slim but, importantly, maintains enough backbone to cast long distances with greater accuracy. It also has a great parabolic fish-playing action to cushion fish of all sizes, from roach and skimmers to F1s and small carp.
The extra length of the 12ft model will be particularly favoured by bream anglers on stillwaters. It will also enable river anglers to keep the rod nice and high to reduce the amount of line affected by the flow.
Three super-slim, push-in carbon tips of 2oz, 2.5oz and 3oz are supplied. Each has been designed to taper perfectly with the blank and will also interchange between the entire Acolyte Feeder family if required.
Being a two-piece rod ensures that it can be easily folded in half for ease of transportation in a Rod Case or Sleeve. A pair of Neoprene rod socks and a retaining band is also included to help protect such a quality item.
Features:
Superb choice for silverfish, bream, F1s and small to medium carp
Crisp and responsive blank for optimum casting accuracy
?Super slim
?Parabolic playing action cushions fish of all sizes
?Ideal for medium to long range work up to 50m+
12ft length is ideal for large stillwaters and rivers
Great with bombs and medium sized feeders up to (1.5oz) 45g
Best matched with reel lines from 4lb to 6lb (1.8kg to 2.7kg)
Two-piece construction folds neatly into a rod sleeve in seconds
Neoprene rod socks and retaining band also included
Supplied with 2oz, 2.5oz and 3oz push-in carbon tips
Extra tips from 1oz to 4oz also available
---